June 13, 2010 at 11:30 pm
#33984
I have been thinking about getting a tattoo.
I was going to get it on my spine of a spine. …How bad will that hurt?
I have been told it will hurt a ton…but I went through 3 foot surgeries without being sedated and they used novocaine kinda stuff to numb my foot but didnt even hurt after that wore off and i got to watch… And when I had my 4 wisdoms pulled i never took pain killers after and never felt much.
Last about approx should i expect?
i was going after the same level of detail as this tat below but no spikes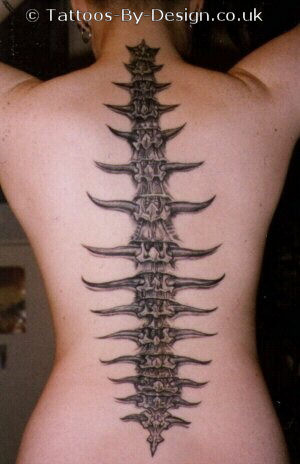 June 13, 2010 at 11:43 pm
#89155
Gsouder
Participant
Tough question. I broke my arm in both bones and didn't realize it for two weeks. I had walking pneumonia for three weeks without really noticing (healed in three and a hlaf weeks of bed rest and strong Antibiotics- my doctor told me i was very lucky to have gotten off so easy) and I walked around with a shattered testicle from a bad fall next to a pool for a week before finally going in to have it checked out*
Tattoos: Totally different kind of pain. It's almost like being tortured. at first, it's kind of annoying, not really painful but just a little bit annoying. At about hour 3 is when the cumulative pain starts to kick in and you want to beat the shit out of your artist. The worst spots are where the skin is thin and you are working directly on bone, which you will almost exclusively be doing with this tat.
Will it hurt? You bet your life. And if you want detail like that you are looking at many many hours, like to the tune of 20+. That said, it would be a really cool tat and if you think you can handle it go for it! It will NOT be a walk in the park though.
June 13, 2010 at 11:44 pm
#89156
TRILOBYTER
Participant
__________________________-
June 14, 2010 at 1:37 am
#89162
HOLY CRAP! 20 hours? lol i was thinking 5 hours. and to just get it knocked out. I wanted to spend 300.00 on the tat.Btw this will be my first and only tat ever.
June 14, 2010 at 4:26 am
#89167
DragunRose
Participant
Hate to burst your bubble, but 300.00 won't get you a good quality tattoo of that size and detail
June 14, 2010 at 5:25 am
#89168
Gsouder
Participant
DragunRose;69515 wrote:
Hate to burst your bubble, but 300.00 won't get you a good quality tattoo of that size and detail
Yeah, my tat the DEPOSIT was 300 dollars. If you want something like this and you want it to look good you need to be thinking more like 3000 dollars. Then again, if you do get it for 300 dollars and it turns out shitty you'll never see it so there's that.
June 14, 2010 at 5:35 am
#89170
I have no idea what to expect. I was just ball parking 300.00 is what id be like ok heres the cash. If its a ton more ill have to think about it…have priorities…:(
June 14, 2010 at 7:31 am
#89172
Sherav
Participant
Hi
My full backpiece was 30+ hours and was $4k (from sterling to dollars). This did include a generous tip. Also take into account time lost from work travel costs etc.
Something like that on your back you are talking a min of 15 hrs most prob around 20-25 depending on the level of detail.
On the spine it will hurt like a bastard but you can chop it up into 3 hr-4hr sittings.
I would recommend $3k so that way you have enough to cover everything.
Good tattoos are not cheap and you would need an experienced artist.
Take Care
Matthew
---
The only difference between a person with tattoos, and a person without is this. The person with tattoos does not care if you do not have any.