July 27, 2012 at 3:20 am
#39581
Spyd
Participant
I have this idea for my 2nd tattoo pretty much completed, but I am not settled on where I'd like it placed. I currently have the red-winged blackbird on my left shoulder. That placement was easy; I wanted it to cover a scar. Well, I covered it! 😀 I love that you really have to hunt for the scar now. Besides the scar reason, I like the placement because I can see it, it can be visible in the right short-sleeved shirts, but can be covered if I want it covered. I like all of that, so that leaves my other shoulder. My husband said that he feels women with too many arm tattoos look like dudes. Well, not really look like actual dudes but it's more of a "guy" thing to have upper arm tattoos. Okay, perhaps. An obvious area would be my back but I really want to see the tattoo, too! I love looking at mine throughout the day. Maybe because it's so new? I'm not opposed to the back, but I'd like to both see it and have it been seen when wearing certain clothing. I prefer upper body placements for myself.
The tattoo idea is 2 monarch butterflies, representing myself and my husband. Monarchs because my kids love to find the eggs and raise them indoors and release them when they are butterflies. They've been doing it for a few years now, so seeing monarchs immediately reminds me of them. The coloring of the butterflies represents a song lyric that sums up a lot of feelings I have about the last 12 years of our marriage. It will be like a rainbow arch is going through the 2 butterflies, making a rainbow but not an obvious rainbow (like a separate image would be).
I made a picture of one of the butterflies on my tablet: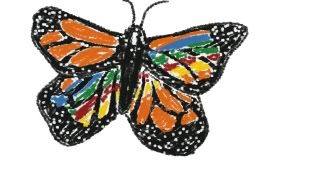 I've seen some very realistic butterfly tattoos, and I've already emailed my artist to see what his opinion is. I was just curious to see what others thought … thanks!