November 19, 2011 at 2:45 am
#38036
How do you differentiate between a bruise and migrating ink?
November 19, 2011 at 4:04 am
#116351
Yep, I got that. I meant in the mean time. I was told certain tattoo bruises can take up to 2 months to heal. Just wondering if there was a way to tell the difference during those two months. I've gotten two different stories from two different artists.
November 19, 2011 at 4:23 am
#116354
November 19, 2011 at 5:35 am
#116355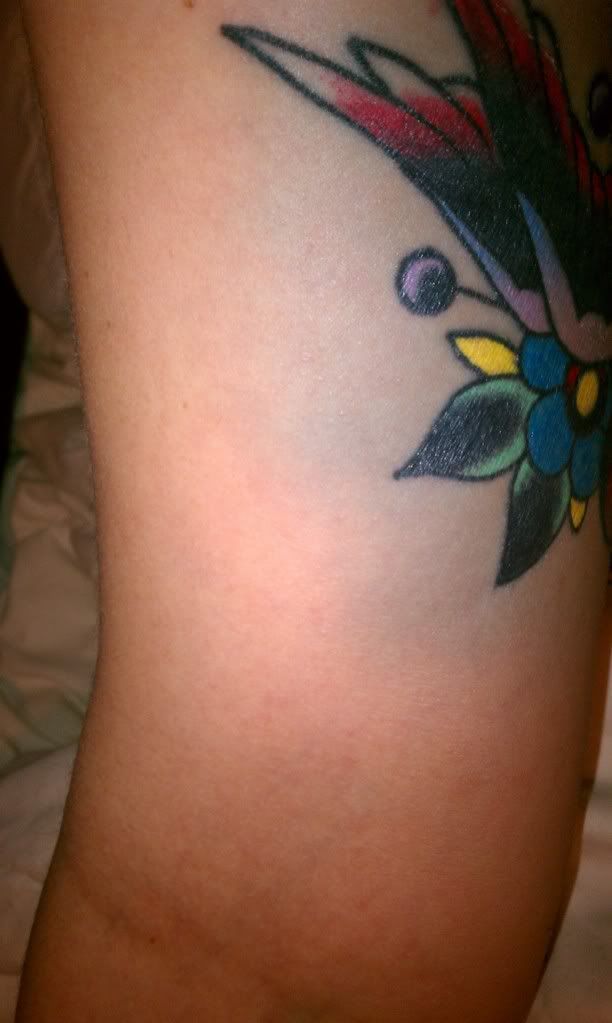 Mary Beth that looks like a bruise to me. How old is it? Has it moved? Looks like the inner arm to me, The inner arm is easily bruised. If it s a bruise it will start to fall down your arm a bit.
Ink migration or a true blow out is when the needle goes through all the layers off skin an is absorbed by the surrounding skin/fatty tissue, It looks to be a bit spread out to be a blow out.
November 19, 2011 at 5:46 am
#116356
It is 11 days old. The entire inner arm was initially bruised for about three days. That showed up around day five. It hasn't moved or changed colors which is what was causing my concern. In person it is a bit darker. The lines seem fine to me, just the outer flesh turned that blueish color. The artist who did it said it was bruising and I was satisfied with that. Until another artist saw it and told me that it was a major blowout and needed to be covered.
I want it to be a bruise because I absolutely love the tattoo as it is. And I know I will find out eventually, just the wait is torturing me. It's not sensitive at all. No color changes, no movement. If this is a bruise, could I expect to see color changes any time soon? I've heard that bruising and blowouts are common on inner bicep tattoos and I've never experienced this before, so I am a little lost.
November 19, 2011 at 6:02 am
#116357
11 days oh I'm sorry Mary Beth But that really sounds like a blow out to me now. maybe someone else will chime in.
November 19, 2011 at 6:13 am
#116358
If it is a blowout and needs to be covered… How long should I wait? Should I go back to the original artist or seek out a new one? If I go back to the original artist, should I expect the cover to be free or at an additional cost? I tan in the summer, so if I didn't cover it, would the blowout fade to the point of not seeing it?
November 19, 2011 at 1:05 pm
#116372
Wardy
Participant
You could just wait and see if the bruising eventually go's away?
---
Are you going to bark all day little doggy or are you going to bite?