June 2, 2011 at 3:16 am
#36700
But still i try'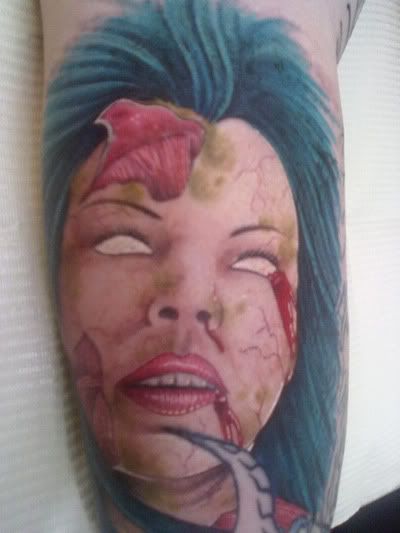 ---
buttwheat
Participant
Whats up with the octopus arm looking thingy the one with the huge blow out on it?
Existing tattoo, not mine. the guy has a bunch of shit all over his arms.
---
buttwheat
Participant
Octopus?
Just being honest it looks like it needs another pass to add a little more depth but it looks real solid.
Dont worry I can take a crit. its a horn from a demon something on the lower arm.
---
Adler
Participant
I'm not loving the skin rip on the forehead but overall I think it's pretty good. And not to be rude and I'm not an artist but looks like you have some inconsistent work in your albums. There's some pieces I think are pretty nice and some i think are pretty bad but just stating my unprofessional opinion (even though you didn't ask for it). I still think you're pretty safe with your current profession though. 🙂
stewroids
Participant
I think you did an awesome job. Keep it up :]
BertNaked
Participant
Not bad. But you should think about a 9 to 5 job on Wall-Mart.
Amok
Participant
hey not bad, I like the vagina on her forehead too!
---
Instagram: pacsyd