March 8, 2012 at 12:53 am
#38787
Vteckickin
Participant
@

vteckickin
About 5 years ago, I got a standard nautical star on my wrist. I had no clue it was so popular, or the comments I would receive for being "trendy". Does anyone think it would be physically possible to turn it into the REAL original nautical compass? Has anyone seen this done before? I have drawn it out myself and can't seem to make it look like it started that way… though I am by no means an artist of any kind.
Any help/suggestions would be fantastic!
Briscogun
Participant
@

briscogun
First of all, if you like your tattoo, then don't worry what anyone else thinks. They don't have to wear it, you do. Don't change it just because some yahoo said it was "trendy".
Secondly, if you do want to get it covered or added to, you need to find an artist in your area that does work you like and ask them. You may not need to do a full cover-up, could be added to or enhanced. Tell them what you are looking to do and see what they say. If you want them to draw something up for you then you will need to give them a deposit, but they will apply this to the cost of your tattoo. They aren't going to work on designing your new tattoo for free, unfortunately.
Can you post a pic here? Some folks here are artists or very good with artwork, you may get some free ideas.
Vteckickin
Participant
@

vteckickin
I know… it just lost a little bit of it's personal significance to me when I saw bro-dozers all over with the "Nor-Cal" star plastered everywhere. I am going to begin my search for a local artist as soon as I have the money. I want multiple tats as of now, but my funds are slightly restricted at the moment.
As for a picture… here it is… My concern is that it is too low on my wrist to significantly change it. Your input is much appreciated.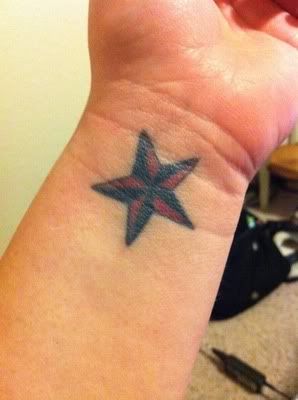 Viewing 3 posts - 1 through 3 (of 3 total)
You must be logged in to create new topics.