March 19, 2012 at 5:23 am
#38864
Like many folks, after a couple tattoos, I'm hooked and plan on more in the future. For those of you who are old hat, I was wondering if you have themes, just get what you like, attempt to make everything fit together, or just don't give a flip –
I find myself drawn to a lot of styles, and my first tattoo was a little cherry blossom on my right thigh, the same size of and opposite of a birthmark on the left thigh. I got my next tattoo on my left side (a considerable text tattoo), and my next tattoo will be on my right side, another text tattoo, so when looking at me head on, it will read face to face. I plan to later on frame it with a Black Forest inspired vine with leaves and little flowers with bright colors, the theme being flowery and feminine, but outlines curvy, bold, and black.
Do you find yourself thinking out such themes and sticking with a general vibe and maintaining a sort of balance or pattern? Do you think it's a good idea or a waste of time? I know Lady Gaga, per her father's request. only tattoos the left side of her body, referring to her left side as her "Iggy Pop" side and her right as her "Marilyn Monroe" side.
I love flora and text (though I'm done with text after my next tattoo, I suspect). I have lots of ideas, like pink roses, cats (specifically, I like black and grey ones), water, trees, and snowflakes.
I want to see if there are any other nuts like me, of course, and why you feel the way you do. Suggestions for tattoos are also welcome. 😀
Cardinal
Participant
Ever since I was a child I have had a 'thing' about symmetry. All of the posters on my wall had to line up next to each other and each wall would have a theme.
I am a little like this with my tattoos. I didn't give it a great deal of thought when I got my first as I thought it would be my only one (:o). Now it is something I definitely do think about.
I don't have a theme except that they do have meaning and importance to me. I do love the look of feminine pieces that flow across the body, but I don't think they'd leave me much scope to have the other pieces I would like.
In a little under three weeks I will be starting a full colour, realism peice on my right thigh. This has me thinking about the balance on my other thigh where I have my black and grey Fleur de lis – I will need to add to this to keep the balance!
Glad I'm not the only one! 🙂 Don't forget to take pictures.
Panter
Participant
Interesting thoughts, and something I keep wondering.
My first (and only) tattoo was the biomech on my leg. In November though I'm getting a photo realistic Mantis shrimp on my arm, so that won't fit in in the slightest.
I love biomech, and the nature of it means I could keep going with that, but I'd also like a wild west "Good, bad & ugly" theme on my bike, so that won't fit with anything either!
Unless people have a concrete plan, and get coverage pretty quickly, I can't see many people having peices that all flow perfectly together unless it's all in the same theme, i.e Japanese
---
Tattoo: A permanent reminder of a temporary feeling.
From the Urban dictionary
Tattoo design, any design, CLICK HERE
I don't know – Those things look almost surreal and made of metal. They're cutie bugs, for sure. 🙂 (Exactly what a man wants to hear, that he has a cutie bug on him.)
Do you think different themes can flow nicely together?
Panter
Participant
I'd go with cutie bugs! I actually have one called Wilf lol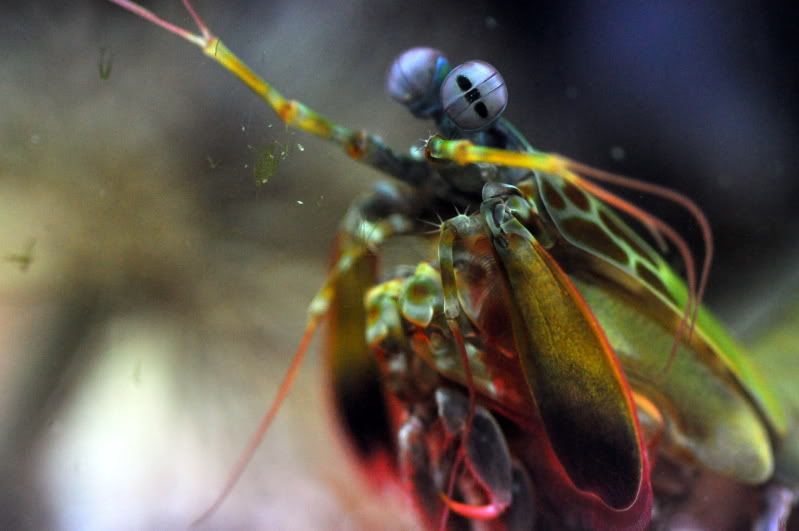 which is why i thought he might make a cool tattoo
I don't know if different themes can flow together, I guess the trick is to just try and avoid any real clashes.
Can't really see it being to much of a problem though, the medium of tattooing is so unique and personal that I guess it just doesn't ever matter as they'll always look good, if done well
---
Tattoo: A permanent reminder of a temporary feeling.
From the Urban dictionary
Tattoo design, any design, CLICK HERE
Cardinal
Participant
I really hope you post pictures of your Mantis tattoo when it finished; I think it's going to look fantastic!
Although I do think about balance of my tattoos I don't think you need to have a theme necessarily, or really have the same style. For me, in my mind anyway, it may depend on how close the different pieces are to each other. I can't imagine having any more work on my back, now that I have by Boar piece, because I can't imagine how I could get anything else to flow and look 'right'.
I can't imagine having a photo realistic peice on the same arm as a traditional Japanese half sleeve, as an example – but maybe that's just me.
mrchen
Participant
I wear many styles of work, all color except one piece, I wear what I like, I did not plan any balance except full coverage, I like new skool, traditional, neo traditional, japanese, I couldnt see my self settling for a theme
---
currently wearing 250 hours, and many more to go, cant explain what my ink means, its personal, it is about who I am
kittykat200
Participant
i find an image or symbol that appeals to me and go with it, i have a heart, some text, two swallows and about to be booked for a phoenix with one artist and a photo realist piece of some butterflies with another, i like wings apparently… things that fly really appeal to me, especially the way the translate into tattoo… i dunno, it wasnt planned, its just the way that it is, i just make sure that my pieces dont "interfere" with one another so that they can stand alone without being crowded or overlooked and put them places that look appealing. I also quite like symmetry so the 2 swallows were painstakingly positioned to be exactly opposite one another with the same tilt and height, i made him place them about 6 times before i was happy, but although i have 2 tattoos on each side of my body (left and right not physical side) only 2 of them are in the same place realtive to the one on the other side and my right side is about to become a lot more full! lol x
He's adorable, Panter! And he looks like he knows it. 🙂 What does he like to eat?
I like the boar a lot, Cardinal. I can't imagine that piece not dominating anything else, as well done as it is.
Mr. Chen, I think it looks good there's a LOT of diversity, but that's almost a theme within itself.
Kitty, I love a well-done bird tattoo. Your tattoos sound very sweet and feminine.
mrchen
Participant
I am torn sometimes as I am sure many of you are,
I could have given my body to one artist and gone for it,
I like the look of pre-designed full suits,
but I knew I wouldnt be happy…….have to get what I want, symmetrical or not,
in the end I guess it did end up being a theme, now as I fill in spots I think it will look more and more cohesive
---
currently wearing 250 hours, and many more to go, cant explain what my ink means, its personal, it is about who I am
peterpoose
Participant
Interesting pet 🙂
I always just liked B&G and planned to do my whole back in B&G and sleeve. Now that I have an appointment with Dmitriy, it would be a shame to not have colour so I am going for a colour sleeve.
The way I see it my arm will be visible a lot more than my back so I am treating it as a separate piece.
I did ask Dmitriy if he wanted me to ask Victor to do something from the back piece to the shoulder, some shading or something to bring it in with the sleeve.
Here is the answer I got from Evelyne lol –
If you don't mind me giving my advice, have Victor do what is needed for your back and let Dmitriy figure out how the sleeve joins with your back. I speak from experience that his work will make you want more, so really let him do the sleeve and whatever is needed for your back
As for placement of tattoos and themes I am just sort of going with the flow and the flow seems to be heading all down my right side lol
---
Viewing 12 posts - 1 through 12 (of 12 total)
You must be logged in to create new topics.