April 23, 2011 at 2:33 pm
#36393
reefdiver
Participant
"]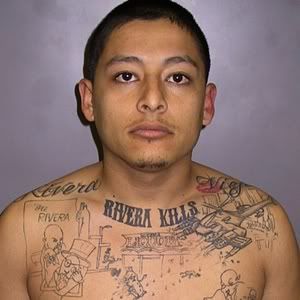 A bloodthirsty LA gangbanger got busted for murder after he was betrayed by the most unlikely of rats — his own tattoo.
Anthony Garcia, 25, essentially wrote out a confession to an unsolved 2004 liquor-store slaying across his chest when he got a detailed tattoo of the crime scene, complete with the store's sign, nearby landmarks and the bullet-riddled victim.
He was finally charged with the slaying after an eagle-eyed detective spotted the tattling tattoo and unraveled its true meaning.
"He put it all together and realized this guy is just advertising the killing on his chest," Chief Bill McSweeney, of the Los Angeles Sheriff's Department, told The Post.
Garcia was convicted Wednesday of first-degree murder charges for the Jan. 23, 2004, shooting death of rival gangster John Juarez, 23, who was gunned down outside the Mr. Ed's Liquor Store in hardscrabble Pico Rivera, Calif.
Immediately after the crime, cops were starved for clues, and it appeared that the random act of gang violence would become just another unsolved slaying in this violent area about 10 miles south of downtown Los Angeles.
But on March 28, 2008, cops made a major discovery — although at first they didn't realize it.
Officers busted Garcia for driving with a suspended license. As part of the booking process, they took a picture of his torso to record his gang tattoos, which often contain symbolism that can give cops information on the underworld.
About six months later, homicide investigator Kevin Lloyd was going through stacks of gang-member photos when he happened upon the image of Garcia. Something clicked.
The tattoo depicting a "Mr. Peanut" character getting gunned down outside a store bearing a "Liquor" sign reminded Lloyd of the 2004 killing, which he had worked when he was a sergeant, according to The Los Angeles Times.
"Peanut," as Lloyd knew, is slang for a rival gang member.
He realized that the images of a street lamp and Christmas lights hanging on the store matched the real crime scene.
Even the way the "peanut" was falling matched what happened. The clincher was the image of a helicopter blasting the victim — Garcia's nickname is "Chopper."
"I worked Pico Rivera a lot of years, so I'm pretty familiar with that area," Lloyd told the paper. "It was incredible."
Cops soon arrested Garcia, who bragged about the killing in his jail cell to an undercover detective who recorded the statement, according to the paper.
"Think about it: He tattooed his confession on his chest." Capt. Mike Parker told the Times. "You have a degree of fate with this."
Wardy
Participant
oh dear, it's tattoo's like that which make people not like them.
---
Are you going to bark all day little doggy or are you going to bite?
Sherav
Participant
You would think that if a person had that much ego to put the killing on their chest they would get a half decent artist to do it.
:confused:
---
The only difference between a person with tattoos, and a person without is this. The person with tattoos does not care if you do not have any.
Viewing 3 posts - 1 through 3 (of 3 total)
You must be logged in to create new topics.